Enjoy the fun & memories of a Photo Booth!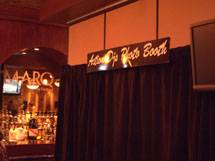 Photo Booths and weddings are a perfect match. They

are exploding in popularity across the country because they are

so MUCH FUN! The resulting pictures are amazing and sometimes

priceless. Your guests are invited to an automated photo booth

that takes 4 pictures at timed intervals. And you never know what

kind of zaniness goes on behind the surrounding black curtains! Our

onsite attendant will guide you in the process of the booth and

placing of pictures in a guestbook. Your guests will get a second

photo strip to take along with them as the ultimate party favor. You and your guests will love this!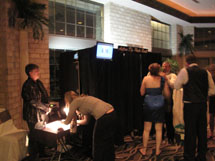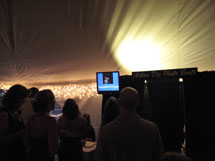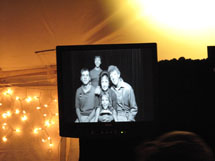 Corporations can send people home with pictures bearing their graphics and marketing message
on them. We can easily upload your graphics file to our system. What a great idea for a fresh
marketing campaign!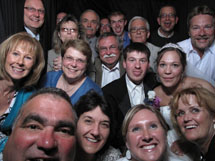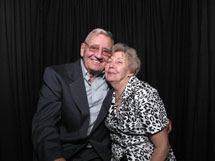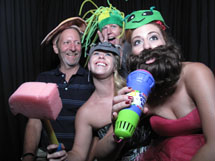 Please push the button below to see more of our Photo Booth Gallery!

Pricing and other information for our Photo Booths are listed below!
Our Photo Booths can be rented for your WEDDING or OTHER EVENTS including:
• Corporate entertainment for parties, sales seminars, picnics, or marketing campaigns
• Family or School reunions
• Birthday, graduation, or holiday parties
• College, High School, or Middle School dances
• Charity events and churches, festivals, or fairs
Features of our Photo Booths are:
• Unlimited images of you and your guests captured with a Canon 15 megapixel camera and pro lighting
• Create personalized graphics or import corporate logos using our exclusive Graphics Design Tool
• Booths will hold from 1 to as many as 12 people or setup can be open and shoot a group of up to 20
• Outputs two strips of 4 photos in 6 seconds or less in your choice of color or black and white
• Photo strips are printed with a Sony Pro Lab Dye Sub printer in your choice of Matte or Glossy Finishes
• Guests can view what's going on inside on an external monitor or watch a slideshow of the images
• Photo CD of all pictures taken at the event is included and posting of images in our online gallery
• Your Beautiful unlimited Photos are placed in a provided guestbook with help from our onsite attendant
PHOTO BOOTH RENTAL RATES FOR WEDDINGS:
4 hours – $750
3 hours - $600
Rent for a full 8 hours $900
PHOTO BOOTH RENTAL RATES FOR OTHER EVENTS:
| | |
| --- | --- |
| 2 hours | $300 |
| 3 hours | $400 |
| 4 hours | $600 |
| 8 hours | $800 |
Contact us NOW to reserve your Photo Booth and create some Memories!
Just call or fill out a contact form! (866) 737-5796
***************************************************
Copyright © 2009-2016 Action Djs, Inc. All Rights Reserved.